The Blogger's Guide to Irresistible Ebooks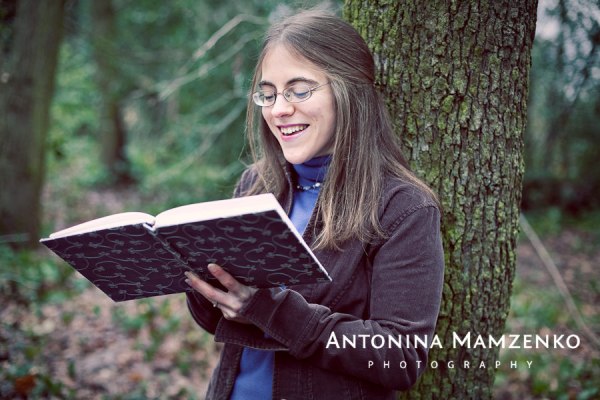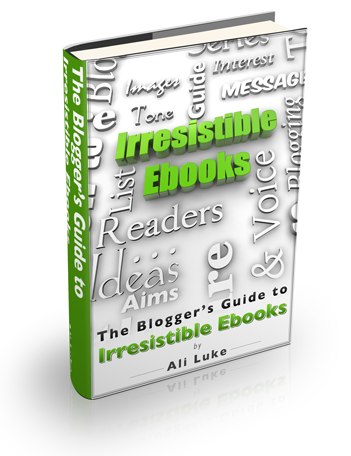 Important: Closing Down Sale
The Blogger's Guides are all half-price as they'll be going off the market permanently after Friday 20th December 2020. If you want to snap up one (or all!) of them, now's your chance. 
The Blogger's Guide to Irresistible Ebooks was fully updated, with new material and video bonuses, in December 2017. 
Is writing an ebook a great path to fame and fortune … or an easy way to waste months of your life?
Let me teach you exactly how to create ebooks that your readers will snap up.
You've probably read a few ebooks – or maybe a few dozen. You know that a free ebook would win you more subscribers, and that a paid ebook could be a great source of passive income.
The problem is, writing an ebook isn't like writing a blog post. Ebooks require time, dedication and careful planning and design.
In this guide, I'll give you everything you need to know. Once you've read it, you'll be able to:
Come up with the perfect idea for an ebook that's exactly what your readers want
Decide whether you want to sell your ebook through your own website or on Amazon
Keep going until you finish – even if you've tried and failed to write an ebook in the past
Use simple techniques to polish your ebook so that it looks attractive and professional
Sell your ebook to an eager audience who can't wait to read it
The Blogger's Guide to Irresistible Ebooks is $25 $12.50:

Or… get all four Blogger's Guides for just $60 $30:
.


Note to novelists:Â The Blogger's Guide to Irresistible Ebooks is aimed at non-fiction authors, but a fair bit of the advice applies equally to fiction books (e.g. on staying motivated, uploading your ebook to Amazon, etc). If you write novels (or other fiction), you're very welcome to buy Irresistible Ebooks, try it out for up to 12 months, then return it for a full refund if you feel it wasn't a good enough fit for you.
Write and Publish a Successful Ebook
As well as publishing my own ebooks – some free, some paid-for – I've helped a lot of writers (clients and friends) get their own ebooks out there into the world. I know that writing and publishing an ebook can feel very daunting, so The Blogger's Guide to Irresistible Ebooks is designed to give you everything you need to know in easy, short chapters.
I'll take you through everything from writing the content to creating the sales page. In just a month's time, you could have a finished ebook for sale.
And in case you're wondering whether it's really possible to create ebooks that readers can't wait to buy, just look at what Robert said during the pre-launch of this very ebook (the third in the Blogger's Guide series):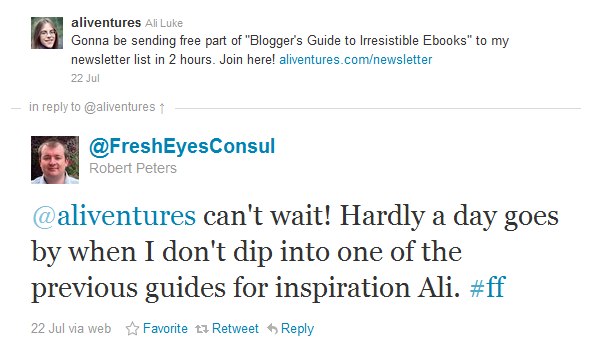 The Blogger's Guide to Irresistible Ebooks is a 125-page ebook, packed with tips, ideas, examples and screenshots to help you create a hugely successful ebook.
I updated it extensively in December 2017, adding new material on selling through e-retailers' stores (particularly Amazon) as well as on your own website, and adding bonus videos.
The Blogger's Guide to Irresistible Ebooks is just $25 $12.50.
(And if it doesn't work for you? I'll give you a 100% refund, no questions asked. You've got a twelve month guarantee, so that you have plenty of time to write and launch your ebook – and to see the results for yourself.)
This is the first product I've read targeted at newbies, but written by someone with a lot of experience.  […]

I knew a lot about getting your ebooks out there but very little about the basics. I've been learning by trial and error which has led to lacklustre sales. […] I believe that this product fills a much-needed gap in the industry and should be the first book people buy when creating their first product.

Cara Stein from 17000 Days says:

I loved Irresistible Ebooks. It's so concise, yet so comprehensive!

Everything you need to know is right there, from overall strategy to how-to details.

I've read a ton of stuff on this topic, and I still picked up a few things I didn't know. Great job!
You'll Get All This…
A 125-page ebook with twenty-eight chapters:
Chapter One: What Type of Ebook Would Work Best for You?
Part One: Planning Your Ebook
Chapter Two: Find Out Exactly What Your Readers Want to Buy
Chapter Three: How to Run a Great Survey and Get Your Readers to Fill It In
Chapter Four: Using Your Survey Results to Start Developing Killer Ideas
Chapter Five: Creating a Roadmap For Your Ebook So That You Stay On Track
Part Two: Writing Your Ebook
Chapter Six: Setting Yourself a Deadline That Won't Kill You
Chapter Seven: Staying Motivated to Keep Writing – Every Single Week
Chapter Eight: How to Get the Most From Every Ebook-Writing Session
Chapter Nine: Structuring Your Chapters to Make Them Easy to Write (And Read)
Chapter Ten: How Your Ebook Style Differs From Your Blogging Style
Chapter Eleven: Reshaping Your First Draft to Make it Flow Perfeclty
Chapter Twelve: How to Get Incredibly Valuable Feedback on Your Ebook
Chapter Thirteen: Using the Feedback You've Received to Make Your Ebook Even Better
Part Three: Polishing Your Ebook
Chapter Fourteen: Editing Your Ebook – Your Essential Nine-Point Checklist
Chapter Fifteen: How to Make Your Ebook Look Professional and Polished
Chapter Sixteen: Putting a Great Cover On Your Ebook
Chapter Seventeen: Different Ebook File Formats – Which Should You Use?
Chapter Eighteen: Adding Bonuses So That Your Ebook is Absolutely Irresistible
Part Four: Selling Your Ebook
Chapter Nineteen: Pricing Your Ebook for Maximum Profit
Chapter Twenty: How to Put Your Ebook Up for Sale on Your Own Website
Chapter Twenty-One: Getting Great Testimonials and Reviews
Chapter Twenty-Two: The Essential Ingredients for Your Sales Page
Chapter Twenty-Three: Uploading Your Ebook and Creating Your Sales Page on Amazon
Chapter Twenty-Four: Using Design Elements So Your Sales Page Grabs Attention
Chapter Twenty-Five: Getting a List of Potential Buyers – Before You Launch
Chapter Twenty-Six: Crucial Ways to Promote Your Ebook When You Launch
Chapter Twenty-Seven: Keeping Revenue Coming In After the Launch
Chapter Twenty-Eight: Where Next? Building on Your First Ebook
And that's not all…
Your FREE Bonus Videos
Along with The Blogger's Guide to Irresistible Ebooks, you'll get two bonus videos, (The only other way to get these is by taking out a monthly subscription to my Writers' Huddle membership site.)
Seminar #1: How to Use Styles in Microsoft Word (and Why You Should)
This seminar explains how Word's "Styles" work … and why they're really important, especially if you're formatting your ebook manuscript in Word. In it, you'll learn about:
Formatting a blog post using basic styles
Setting up your own custom styles
Using styles to get your book manuscript ready for agents or editors
How styles make it easier to self-publish on Kindle
Seminar #2: How to Publish an Ebook on Amazon
This seminar covers everything you need to know about getting your ebook up for sale on Amazon. You'll learn about:
What you need to have ready before uploading your manuscript
How to use the KDP (Kindle Direct Publishing) site to publish an ebook
Key issues to watch out for when previewing your ebook before publication
Why you should join Amazon's Author Central, and how to use it
As soon as you've bought the Guide, you'll get full access to these videos, plus audio versions and full, edited transcripts to make it as easy as possible for you to successfully publish your own ebook.

Todd Boyer from PhitZone says:

Ali, I like how you've laid this out. This is the first time that I've seen a true writer lay this out, versus the typical ebook author that says, "Just bang it out, release the book, market it, and watch the money roll in." What you're providing is fresh, in my opinion.
Successfully writing and launching an eBook can be a daunting task. But, Ali's The Blogger's Guide to Irresistible eBooks seems to literally take you by the hand and walk you through the entire process!

As you'd expect, the work is well organized. What I appreciate most are the examples and the links to quality products which can aid in saving time and getting to the finish line more quickly.

Something I am continually working on in my writing is creating a warm and engaging "voice". I feel like Ali is actually sitting there talking me through some of the more technical aspects, like setting up a sales page or e-Junkie links.

All in all, if you have an eBook within you, yet to be birthed, TBG to Irresistible eBooks is a must-have. I've taken advantage of personal coaching as well. I know I have the tools I need to get the job done.
The Blogger's Guide to Irresistible Ebooks is $25 $12.50:

Or… get all four Blogger's Guides for just $60 $30:
.


Get Your Ebook Started: Buy The Blogger's Guide to Irresistible Ebooks Now
Your Success Guarantee
I hope that your ebooks will be as successful (and as fun to write!) as mine have been. If you're not happy with this ebook for any reason, just let me know within twelve months. I'll be very happy to refund your money.
Why such a long guarantee period, when 30 days is standard? Because I want you to have the time to really put this into practice and see the results for yourself.
At first, I was sceptical. I'd read Ali's blog, caught up with her guest posts…heck, I'd even been a student on her "Blog On" course. She'd given me so much help, so much useful content, I didn't think there was much her eBook could add. After all, I'd written my own eBook, hadn't I?

It turns out I was wrong. More wrong than I'd be if I thought my (hideous) plaid  golf trousers were acceptable for day-to-day use

The Blogger's Guide to Irresistible Ebooks is essential for anyone who wants to develop the type of eBook people actually read .

All too often, eBooks are over-written and under-read. They end up in the hard drive equivalent of the Falkland Islands, gathering dust.

Unless.

Unless you learn how to conceive, write, format and market an eBook like an expert.

Unless you had a handy tome to read before, during and after writing your eBook. A tome which contains all the advice you need…and not  a letter more.

Unless (and you can probably tell where I'm going with this) you have The Blogger's Guide to Irresistible Ebooks.

Sure, other books are out there; some have as much helpful information, some are as well written and some are the same bargain price.

But I bet you can't find another which meets all 3 of those criteria.